Donating to Reset just became a lot easier. That's because now you can contribute to the cause using PayPal! Even if you don't keep a PayPal balance, it's easy to have it taken straight from your bank account. Check out this quick and easy guide to setting up a PayPal account.
Here is how you can contribute as a one-time payment, or as a monthly recurring donation.
One Time Payments
The easiest way to make a one time donation to Reset using PayPal is to click this link.
You can also get to the link from the homepage on our website by clicking on the "Contribute Now" button on the top right hand side of every page. It looks like this.
You'll be taken to a page that looks like this and all you need to do is enter your donation amount. If you don't have an account with PayPal, it's easy to set one up.
Monthly Recurring Donations
If you'd prefer to make a monthly recurring donation to Reset, you can do that easily as well.
On our website, just go to the blogs page, or any blog entry, like this one. On the right hand side, you'll see this button.
Select a monthly amount using the dropdown box. Right now, we have options for $10, $25, $50, and $100 per month.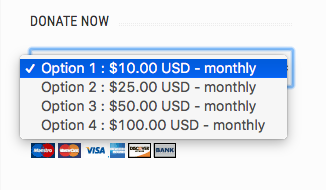 Then, click "Subscribe" and you'll be directed to this screen.
Be sure to fill in the field above with a description and you're then prompted to Log In to your PayPal account. Then, you'll be directed here.
Fill the description field in again, and then confirm your payment. To change this setting, refer to the default payment method in your "My preapproved payments" section on your PayPal account.
That's it! Questions? Send us an email or leave a comment on this post.
Thank you, every contribution goes a long way towards helping Reset!